About Us
History Pre 1945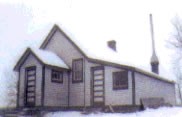 Dunstable School, located about 31 kilometers south east of Barrhead, serves approximately 65 students K to 6. Dunstable School came into existence in 1916 when the first Dunstable School was built two miles south of the present site. The first teacher is believed to have been Mrs. Jean Livesy. Dunstable School derived its names from the small community of Dunstable located about 50 kilometers north of London, England. According to area pioneer and school bus driver, Mr. Jim Redwood (now deceased), the community got its name by a lottery. Wondering how to name it, the four founding settlers decided to each put a name into a hat, and the name drawn was Dunstable.
The one room school served grades one to ten until 1948 when schools in Belvedere, Sion, Five Lakes, Clifton and Dunstable were centralized. During the summer of 1948, the five school buildings were moved to the new location which is the present site of Dunstable School. The enlarged version of Dunstable School served 100 students grades one to twelve. Enrollment peaked in 1949 with 126 students and started dropping off in 1962. From 1937 to 1964, grade 11 was the highest grade offered and in 1965 it dropped to grade nine. Since 1973, the school has served K to six.
The present building was completed in 1953. It has an unique architectural design with the gymnasium as the centre of the school building serving as entrance and hallway. It must be traversed to gain access to any of the classrooms. With the completion of the new addition in 1999, the large boot room now serves as entrance to the two offices and the library/computer room. The school also consists of four classrooms, a staff room and gym.